SAĞLIK REKREASYONU KAPSAMINDA TERAPATİK REKREASYON UYGULAMALARI
Keywords:
Recreation, Health, Recreation Therapy, Therapeutic Recreation
Abstract
This study aims to examine the therapeutic recreation practices which have a special application area in the context of health recreation of recreation activities aiming to be individual and social well. In this context, firstly the relationship between recreation and health has been discussed, then recreation therapy and therapeutic recreation concepts have been explained with the health improvement aspect of recreation activities. The importance of therapeutic recreation practices in the prevention or treatment of individual and social problems arising from changing conditions and opportunities is mentioned. Program planning should take into consideration the expectations and needs of individuals. It should be ensured that the activities included in the program are curative and rehabilitative.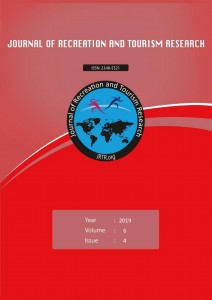 Downloads
How to Cite
ÇETİNER, H. (2019). SAĞLIK REKREASYONU KAPSAMINDA TERAPATİK REKREASYON UYGULAMALARI. Journal of Recreation and Tourism Research, 6(4), 405–411. https://doi.org/ 10.31771/jrtr.2019.42
License
This work is licensed under a Creative Commons Attribution-NonCommercial 4.0 International License.